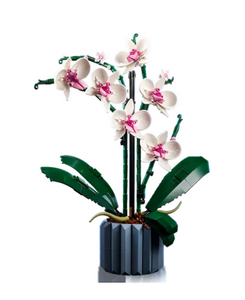 Deliveries will be shipped via FedEx to shipping address provided. We cannot ship to PO Boxes. See below for full terms and conditions.

LEGO® Botanical Collection - Ages 18+

Piece Count: 608
Limit 2
Product Description:
Enjoy a mindful building project and create a beautiful plant display for your home with this LEGO® Orchid (10311) model building project for adults. Take your time crafting all the details of the white and pink flowers and the vase. Inspired by a real orchid, the model has 5 leaves at the base and 2 wandering air roots to create an authentic display. Build the blue fluted vase and fill it with the brown LEGO elements to recreate the bark mix that a real orchid would grow in.
Customize your display
Pose your orchid in a variety of ways by rotating the stems, blooms, roots, and leaves of the model to achieve the perfect look. Or personalize your display by rebuilding the stems to create new combinations of flower arrangements.
Building creativity, piece by piece
Discover the space to be mindful and the time to relax with buildable models designed specifically for adults from the LEGO Botanical Collection.
Build your own orchid – Enjoy a rewarding building project as you create a plant display to enhance your home or office decor with this LEGO® Orchid 10311 building kit
Customize your display – Rotate the model's stems, blooms, roots and leaves to create your preferred look, and rebuild the stems to create new combinations of flower arrangements
Inspired by a real orchid – The LEGO® designers have worked carefully to create a model that looks as close as possible to the real thing, with amazing attention to detail
Enjoy the build – Relax and take your time with this building project. Whether it's a treat for you or a gift for a plant lover, this LEGO® Orchid set is designed specifically for adult builders
From the LEGO® Botanical Collection – This is part of a collection of building sets inspired by real-life plants and flowers and designed specifically for adults
Spot the repurposed LEGO® elements – Hidden throughout are LEGO elements inspired by other sets, like the minifigure shields and dinosaur tails used to create the sepals and roots
Dimensions – This buildable model measures over 15 in. (39 cm) high, 11.5 in. (30 cm) wide and 9.5 in. (24 cm) deep
A project for adults – The LEGO® Orchid is part of a range of building sets designed for adult building fans who love stunning design and intricate details
Quality materials – LEGO® building bricks are manufactured from high-quality materials. They're consistent, compatible and connect and pull apart easily every time: it's been that way since 1958
Safety ensured – With LEGO® pieces, safety and quality come first. That's why they're rigorously tested so you can be sure that this collectible orchid model is robust
2x4-gold-brick-keychain,2x4-red-brick-keychain