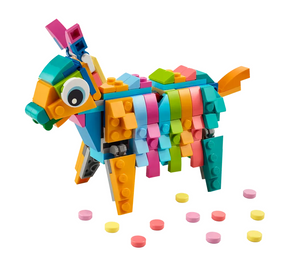 Deliveries will be shipped via FedEx to shipping address provided. We cannot ship to PO Boxes. See below for full terms and conditions.
Ages 8+
Piece Count: 206
Limit 5
Product Description:
Bring extra fun to a party with this brilliant LEGO® Piñata (40644) building kit for ages 8+. The traditional Mexican party game comes in the form of a colorful donkey with a posable head, neck, tail, legs and ears. The Piñata can be used to store small LEGO bricks to replicate candy inside it, which will fall out when opened at the bottom to the delight of kids and adults. This set makes a wonderful showpiece at any celebration and an attractive item for display.
LEGO® party time – Build a LEGO Piñata (40644), bring it to a party and enjoy the fun of opening it at the bottom and watching small LEGO bricks, replicating candy, fall out.
Posable donkey – Kids can move the Piñata donkey's head, neck, tail, legs and ears and use it for play and display in between parties.
Measurements – The Piñata measures over 3.5 in. (10 cm) high, 5.5 in. (5 cm) wide and 2 in. (5cm) deep and can be given as a party gift at any time of year.
expecto-patronum,the-rise-of-voldemort